Le Khanh Hung, Nguyen Thao My lead after round 1 of Lexus Challenge 2023
Lexus Challenge 2023 - the most challenging and demanding tournament VGA Tour has completed the first official competition day on par-71 The Bluffs Ho Tram.
This morning (February 21), Lexus Challenge 2023 officially kicked off at The Bluffs Ho Tram. The tournament kicked off today with 126 professional and amateur athletes competing. The match list recorded 38 amateur stars, including defending champion Nguyen Anh Minh.
After a stressful day of competition, the top names in round 1 were revealed. In the South group, the defending runner-up Le Khanh Hung leads the group with 68 strokes -3. Le Khanh Hung is one of the potential young faces to attend the Lexus Challenge 2023. Starting the first day of the tournament, the golfer born in 2008 brought home 4 birdies and only got 1 bogey. Notably, Khanh Hung started the same flight with Brian Jung and Joel Troy - two golfers who are considered formidable opponents..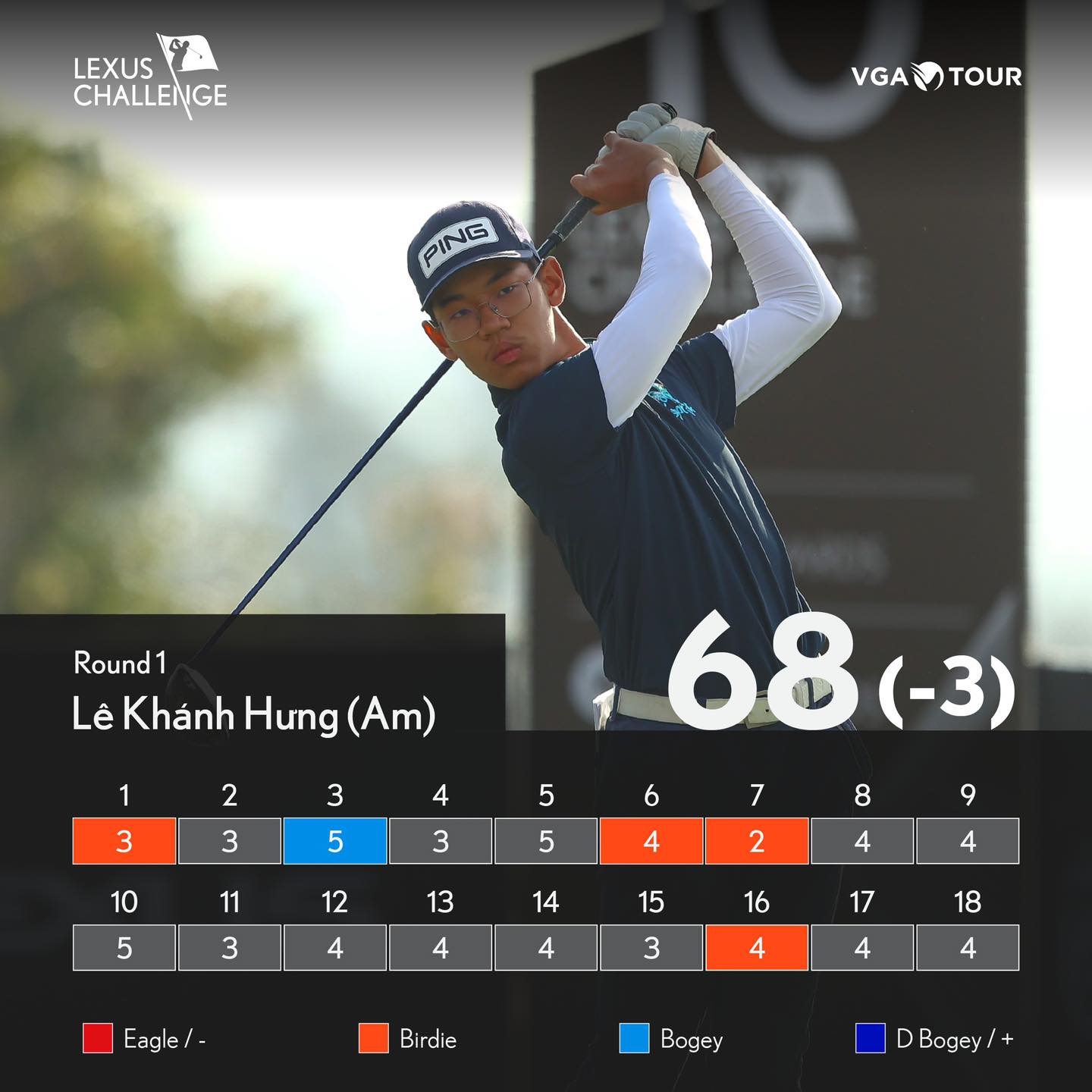 The second place is Nguyen Anh Minh, Truong Chi Quan and Nguyen Tuan Kiet with a close score of 1 stroke. After 10 holes, defending champion Anh Minh followed Khanh Hung with 4 birdies and 1 bogey. However, the unfortunate bogey score on hole 17 made the golfer born in 2007 drop to T2.
For Chi Quan, the golfer born in 1998 started the 10th hole and had an unfavorable start when he scored 2 bogeys after the first 6 holes. However, 4 birdies on holes 16, 4, 5 and on the last hole helped him to finish with a record of 69 strokes -2.
Nguyen Tuan Kiet also has a stable pace of play when he only caught 1 bogey on hole 13 and scored 3 birdies on holes 1, 6 and 18.
Holding T5 are 3 golfers Tran Le Duy Nhat, Dinh Song Hai and Park Sang Ho with a total score of 71 strokes.
At last year's Lexus Challenge season, the trio Anh Minh - Khanh Hung - Chi Quan gave the audience extremely attractive chases, then in the end it was Nguyen Anh Minh who won the overall championship, while Le Khanh Hung and Chi Quan finished second with only 1 stroke less. That competition of the three golfers was immediately re-established at this year's tournament when they shared the two leading positions on the rankings.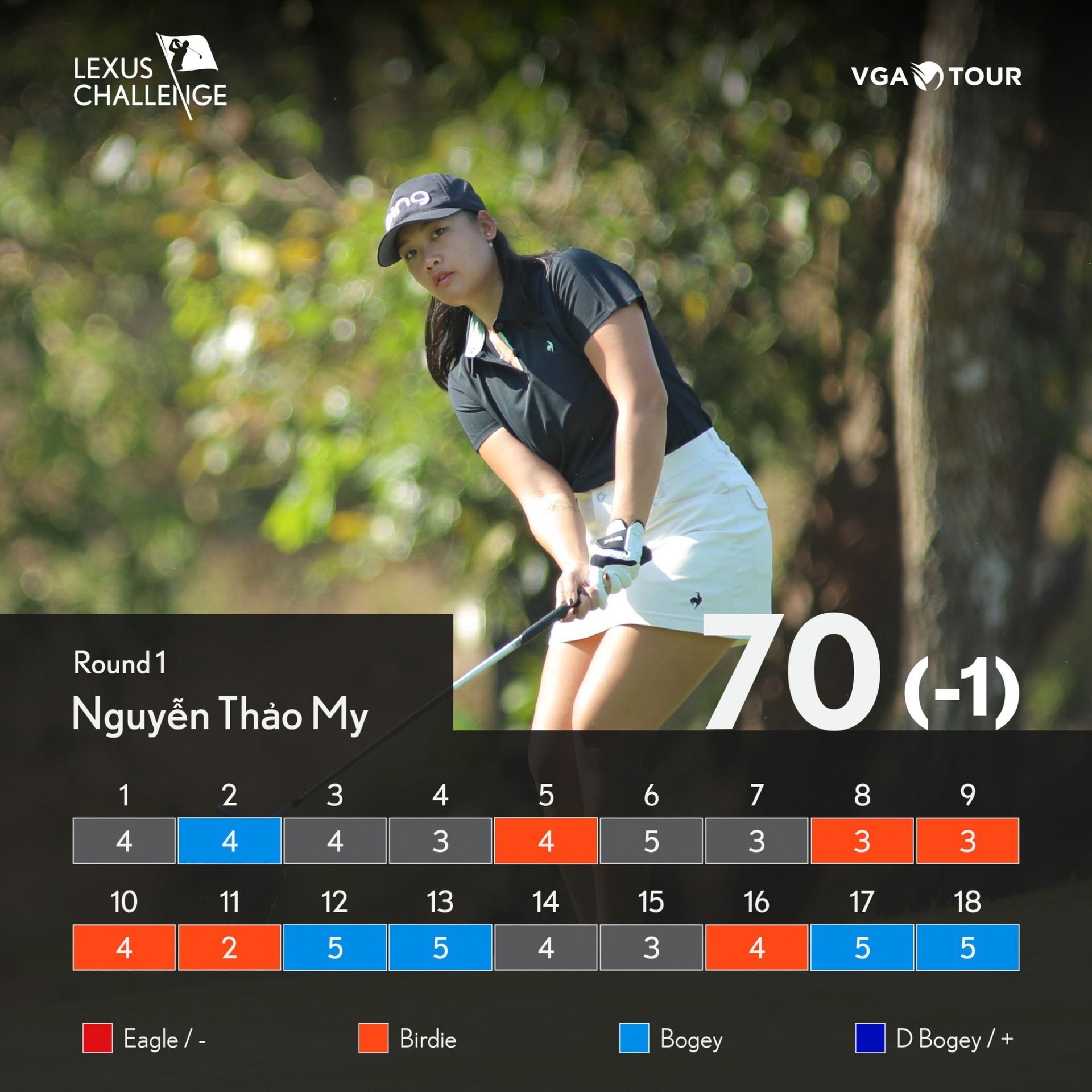 Unfortunately, the first day of the Lexus Challenge 2023 had to be halted because of the dark, and the last two starting groups of the women's group were unable to finish all 18 holes. Currently, Nguyen Thao My, who started in the morning, is temporarily leading with -1. Starting at 8:00 am, Nguyen Thao My got off to a bad start with a bogey on the 2nd hole. However, after that, she brilliantly scored 6 Birdie points and ended the first day with a winner. quite a good score of 70 strokes (-1), temporarily leading the Women's Division.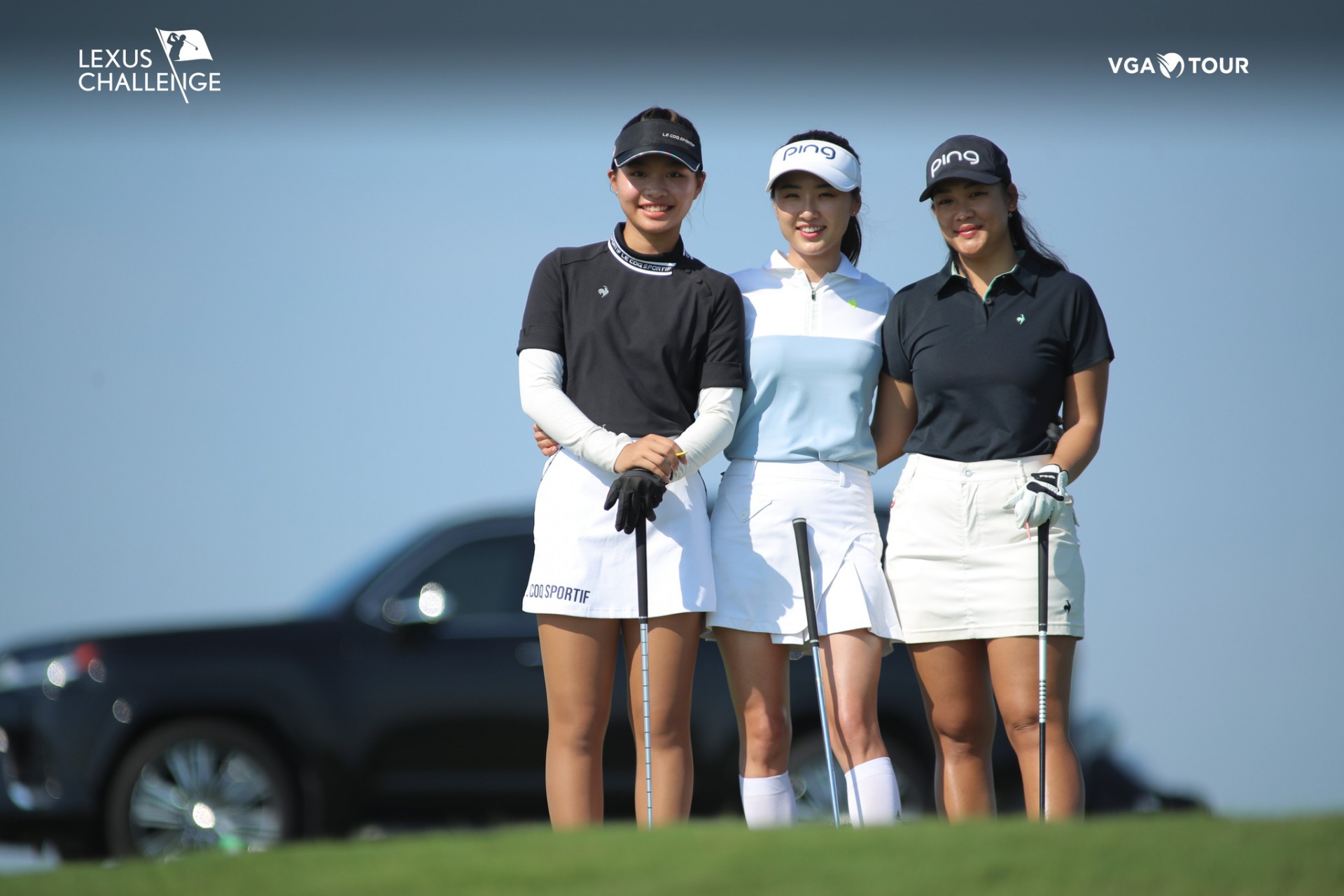 Thao My's formidable opponent in the Women's group besides Lina Kim or Chuc An, notably athlete Ngo Bao Nghi - a former national champion from Vung Tau. Bao Nghi tee-off in the afternoon and is playing very stable with even par score after 10 consecutive holes, temporarily ranked 2nd.
Other Articles