Bordeaux Rendez-Vous 2019 in Viet Nam
T.K., in partnership with Barrière Frères, are excited to welcome back 23 Grand Crus estate owners and representatives. All will be present on the 22nd of April in Hanoi and the 23rd of April in Ho Chi Minh, for one of the country's most exceptional wine line up.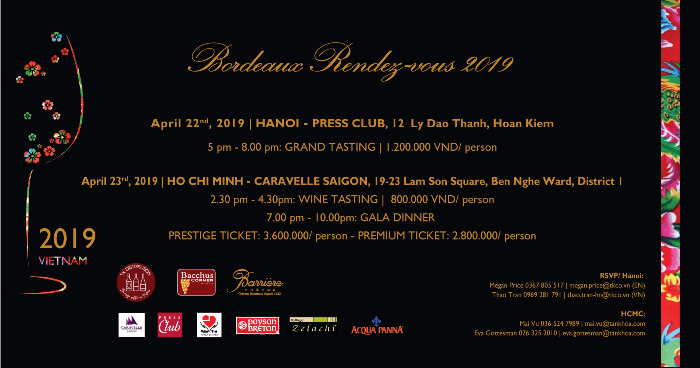 One ticket will give you the opportunity to taste 1st and 2nd labels of each Château present and we will be offering you the chance to buy on the spot a selection of unique vintages with 36% discount from retail price.
Besides that, we have a special night of Gala Dinner - Bordeaux Rendez-vous 2019.
Wine enthusiasts will have the opportunity to own 24 exceptional bottles in a fundraising program charitable auction for Heart Institute Vietnam taking place in our Ho Chi Minh City event (Caravelle Saigon).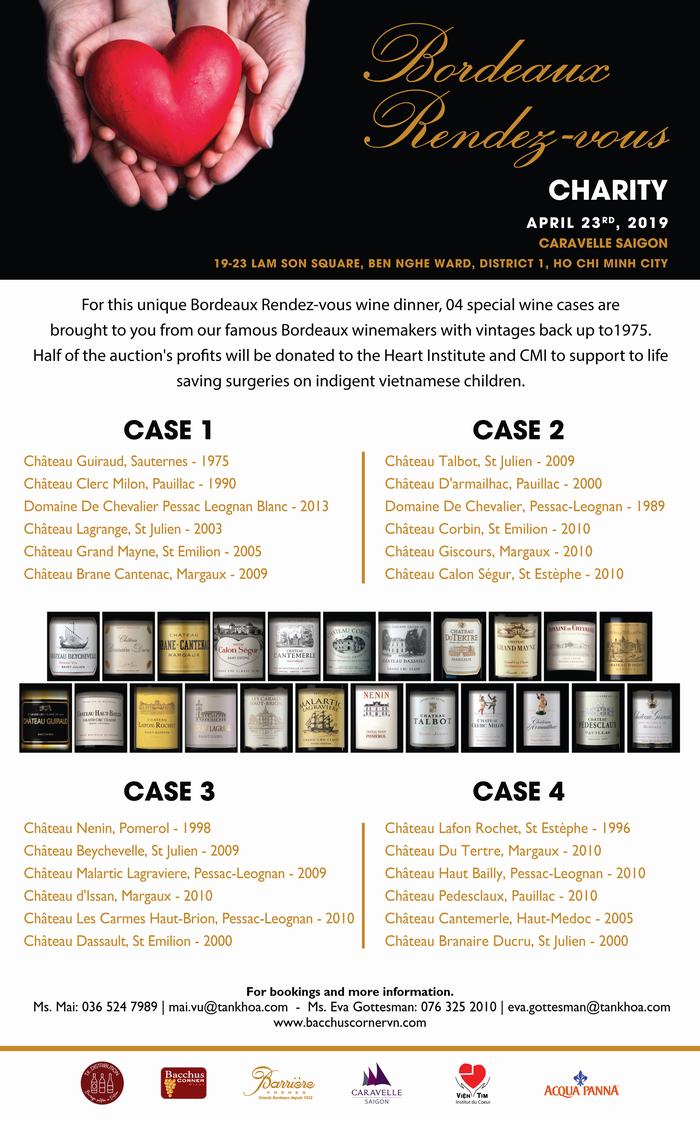 The primary motivation of the Bordeaux Rendez-vous wine fair is to unite some of the most prestigious Bordeaux Estates and all the Bordeaux lovers around South East Asia. This event which is probably the most important Bordeaux event ever organized in South East Asia is the unique occasion to exchange directly with the Chateaux owners.
Bordeaux is the undisputed king of red wine. This region has been cultivating vines for more than 2,000 years and has perhaps the highest reputation for fine wines in the entire world.
The Bordeaux vineyard appellation is one of the largest in France. Although the region is best known for its red wines, a variety of both white and red wines are produced here.
Red Bordeaux wines are elegantly styled with firm tannin levels that develop a characteristic softness and subtlety with age. Their age worthiness makes them ideal wines for collecting and cellaring.
Bordeaux is made up of many sub-regions that each have their own soil and climate. However, there are two major areas in Bordeaux, the Left Bank and the Right Bank. The names are derived from the location of each area to the left (west) and right (east) of the Gironde Estuary and Garonne River.
Bordeaux Rendez-vous is your unmissable wine event of 2019 in Vietnam
Châteaux d'Armailhac & Clerc Milon, Château Beychevelle, Château Branaire-Ducru, Château Brane-Cantenac, Château Calon Ségur, Château Cantemerle, Château Corbin, Château Dassault, Domaine de Chevalier, Château Giscours & du Tertre, Château Grand Mayne, Château Guiraud, Château Haut-Bailly, Château Lafon Rochet, Château Lagrange, Château Les Carmes Haut-Brion, Château Malartic Lagravière, Château Nénin, Châteaux Pédesclaux & Issan, Château Talbot
Whether you're a dedicated wine enthusiast or simply want to learn a bit more about wine, the Bordeaux Rendez-vous tasting offers you a truly unique experience.
For more information and to buy tickets, contact us:
?Ha Noi:
[VN] Thao Tran: 0969 281 791 I [email protected]
[EN] Megan Price: 0367 805 517 I [email protected]
?HCMC:
[VN-EN] Mai Vu: 036 524 7989 I [email protected]
[EN] Eva Gottesman: 076 325 2010 I [email protected]
Other Articles