KN Golf Links Cam Ranh
Review by Steven Loricco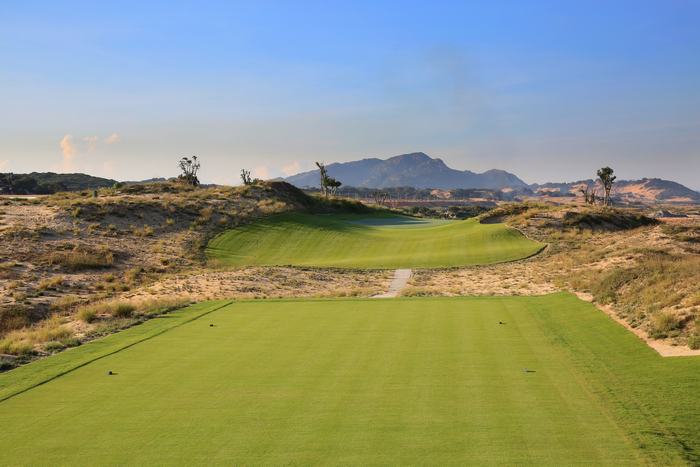 Does it get any better than this?
On Aug 14th 2018 I was given special access to check out what everyone in Vietnam golf is talking about. A round of golf at the new amazing Greg Norman design, KN Golf Links Cam Ranh which is set to open later this year.
Why is it that new golf courses keep popping up in Vietnam with such high quality?
I believe it is to do with land on offer and the professionalism of the designers and people involved, in this case former World number 1 golfer Greg Norman and the team at the KN golf.
KN golf links is set on huge amount of land stretching 800 hectares which will soon include many hotels and villas, a theme park, a marina and many entertainment areas.
In regards to the course design the first thing you will notice is the quality of the driving range. Often left in the background a good range can reflect on what's to come and this range is no exception. Wide open spaces, plenty of pin locations and sensational views with large boulder rocks in the background.
What better way to start off your round!
A short cart ride away is the first hole measuring 596 yards (545m) off the shark tees and straight away you get a taste of the beautiful sea views. (Course also has Gold, Blue, White and Red tees just to note)
On your right is the South Sea with views of small islands in the distance and Nha Trang mountains further left over the ocean. The hole itself is a beauty with rolling dune fairways playing first downhill then back up to a well perched green.
You will then enter a stretch of holes where the views turn from sea view to open field spaces and mountains. Another thing you'll notice is an added challenge with water coming into play from holes 4 to 7.
Hole 4 is a 189 yard (173m) ripper with water all along the left to semi island green as pictured below. I took on this hole with 30k winds and maybe lucky the wind came from the left rather from the predominant right side.
I managed to make par but this course would soon begin to bite me as I started to take on some holes back into the wind.

 

Once you pass this beautiful unique stretch of holes including the uphill dog leg par 4, 8th, you will find yourself at holes that feature sea views all the way to the 18th green.

The 10th is a hole that may cause slow play due to the panoramic sea views you get when you reach the tee. You will want to stare and admire for as long as you can!
You will then play more great holes as the course feeds it way to the sea before reaching a finishing stretch that is as good as any.
Hole 15 is a 386 yard (353m) downhill par 4 where you again hit to sea and hopefully right of a remarkable sand bunkering design which stretches from tee to green.

The 16th par 3, 193 yard (176m) plays sideways along the coastline at the lowest point of the course and is another beauty shown in the pic below.

The 570 yard (521m) 17th plays back up the hill towards a picturesque natural boulder formation in the distance.
Finally you reach the finishing hole, a 385 yard (347m) dog leg right hole with the clubhouse on the left and again sea views on the right.
KN golf links course is simply a must play and it's location is perfect right next to newly upgraded Cam Ranh Airport. It is due to open around the start of November this year and I suggest you email KN golf on the email above to make a booking.
I'd like to thank General Manager Simon Mees for giving me access to view this masterpiece as well as to KN group and Greg Norman for designing such a wonderful golf course for Vietnam.
Stay tuned for more updates on Cam Ranh including information on the additional 9 hole course which includes more amazing holes.
Other Articles