Interview with CEO Asian Tour Cho Minn Thant
On the sidelines of the International Series tournament held in KN Golf Links Vietnam, the Asian Tour CEO shared with Vietnam Golf & Leisure an exclusive interview.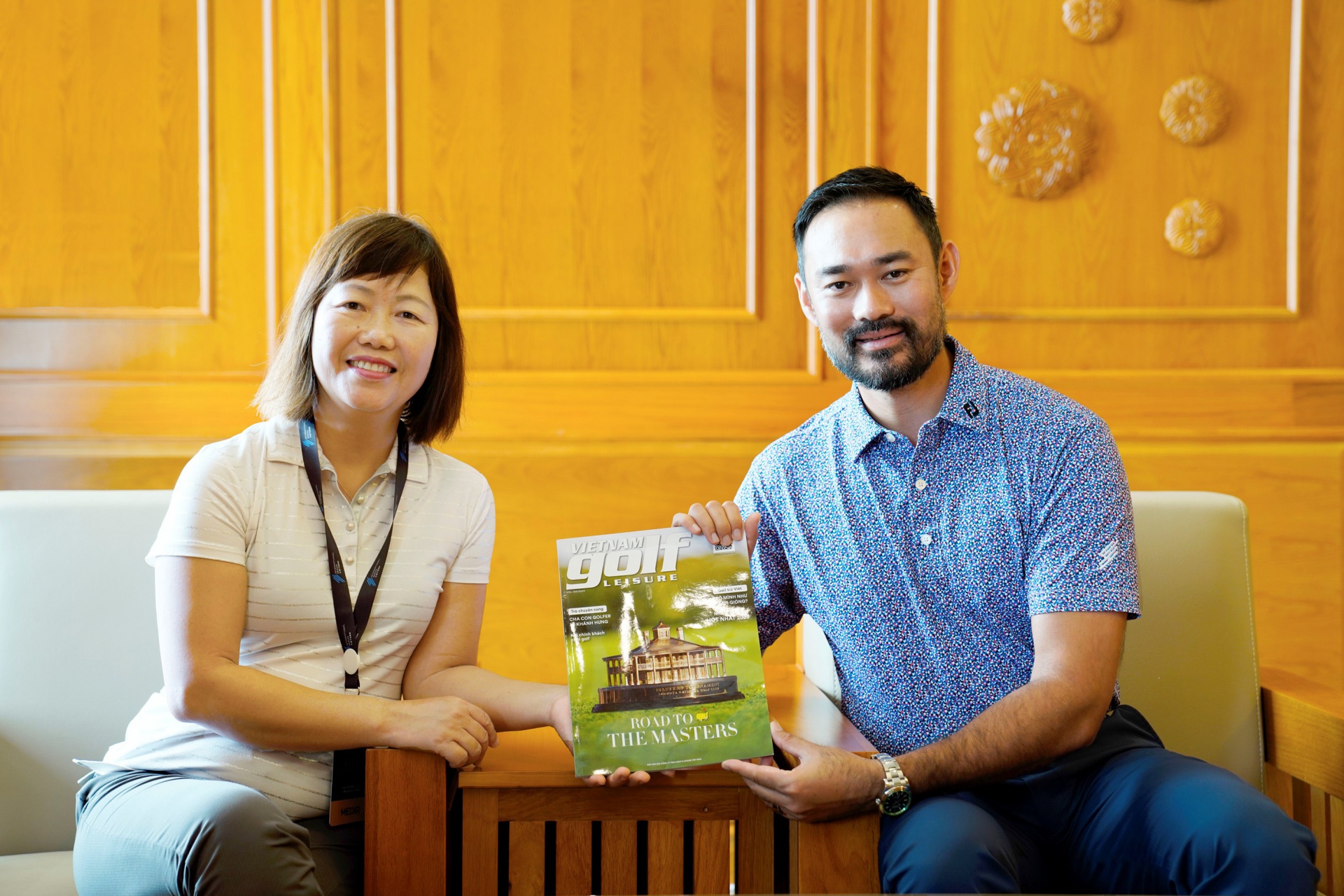 Where are you come from? And how did you come to golf?
My parents are from Myanmar, but I grew up in Australia and I've been living in Singapore for the last 17 years. I travel a lot. I played a lot of junior golf when I was in Australia. At one point in my life I wanted to be a professional golfer. I found out very early that I don't want to play for living but I want to be in golf industry, so that I decided to complete my education in Australia. It was the time when Asian Tour was starting up – right place at the right time.
How did you come to the Asian Tour and become CEO?
I first join in Asian Tour in an event management. My first job in Asian Tour was to organize the qualifying school, I ran it for over three or four years. After that, I moved on to do some national open such as Brunei Open, Philippines Open... and then I progessed through to player defense, and then tour policy and then I became COO and CEO. So, my whole career is for Asia Tour.
Are you happy with your careers now?
Yes, it's very fulfilling. Like I said when I started doing with qualifying school, every year I liked to see the players come from the qualifying school get on to the main tour, have a good year, and even win. Some of them have become popular names with audience now. It is really happy when see them come through from 14, 15, 16 years old and really grow.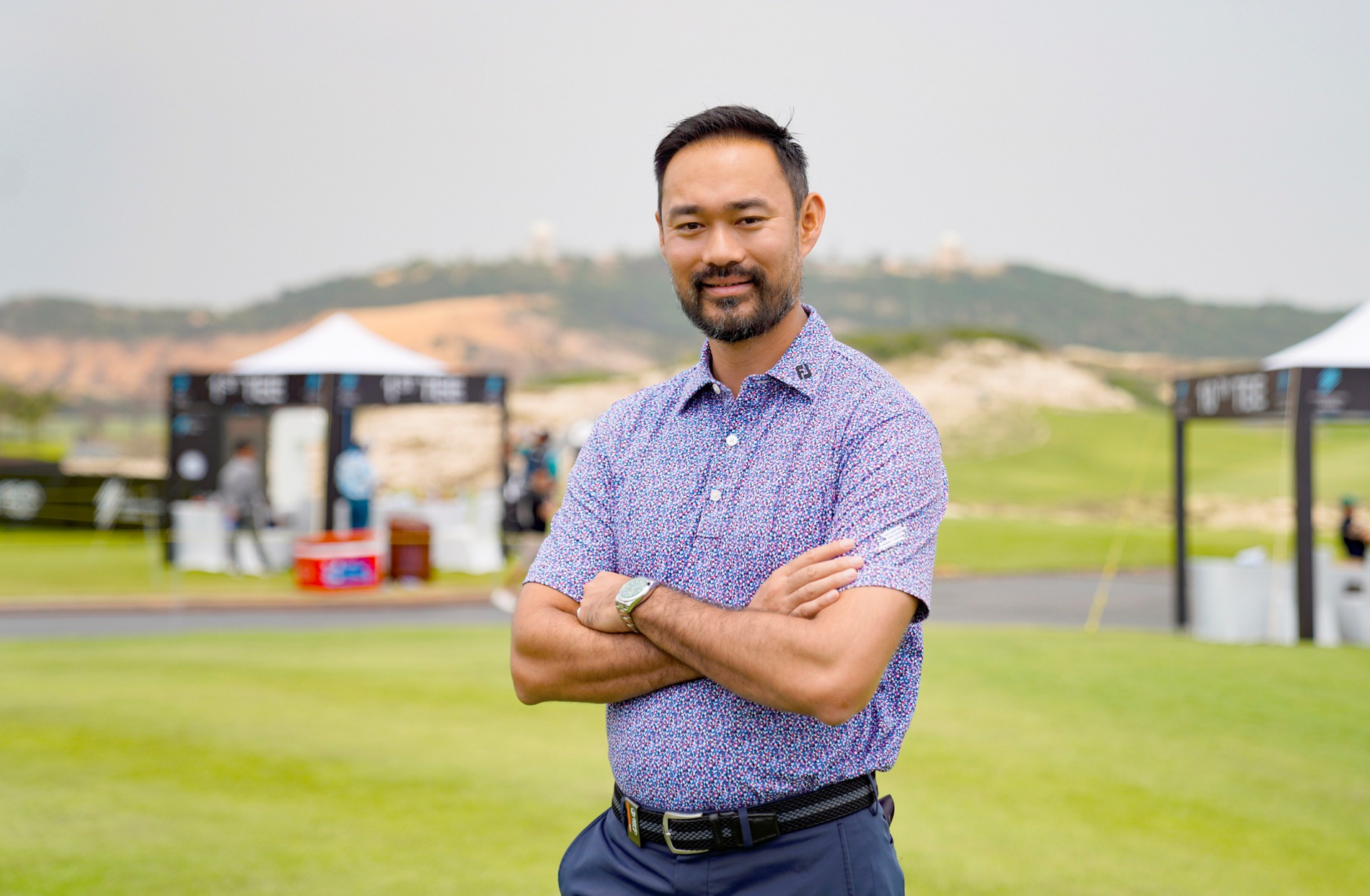 Can you tell us what is the special of Asian Tour in comparision to other Tours?
I think the last 2 years have been a rollercoaster. The Tour was doing fine, we were in a pretty good spot in 2019, but in 2020 everything turned upside-down with Covid. We were looking that we would have a strong season in 2020, but then we had to stop in March. Then through to 2021 and 2022, we don't know what we're going to do. So it's really hard for us. As the CEO of the Asian Tour, I've seen the worst time of the Tour during the Covid pandemic. And right now I honestly can say it is the best time for Asian Tour because we are really growing.
Personally,  I've always had a good relationship with people in the Middle East, even though we weren't sanctioning partner of  the Saudi International. When the Saudi showed the interested in the game of golf, they naturally wanted to work with the Asian Tour. But when they wanted to initially do their tournament, the European Tour was bigger than the Asian Tour, so they wanted to do a big event in Saudi Arabia. And the first thing they thought of was going to the European. Now they've been experienced in the golf industry for a while and they see themselves as Middle Eastern, but Middle Eastern meaning it's a part of Asia. So, I built that relationship with the LIV Golf, and we as a tour with willing to change and adapt with what they wanted. Because we're very young tour and a lot of the players on our tour are below the age of 26. The past 5 or 6 winners of Order of Merit were all been around 24 or 25 years old, Tom Kim was 17 years old. So that means we're not really fixated on the past and we're willing to grow. 
Our history is a lot shorter than the PGA Tour or European Tour. But we're quite young so that we cant build our own tradition and history. And I think that's what makes us different to the other Tours.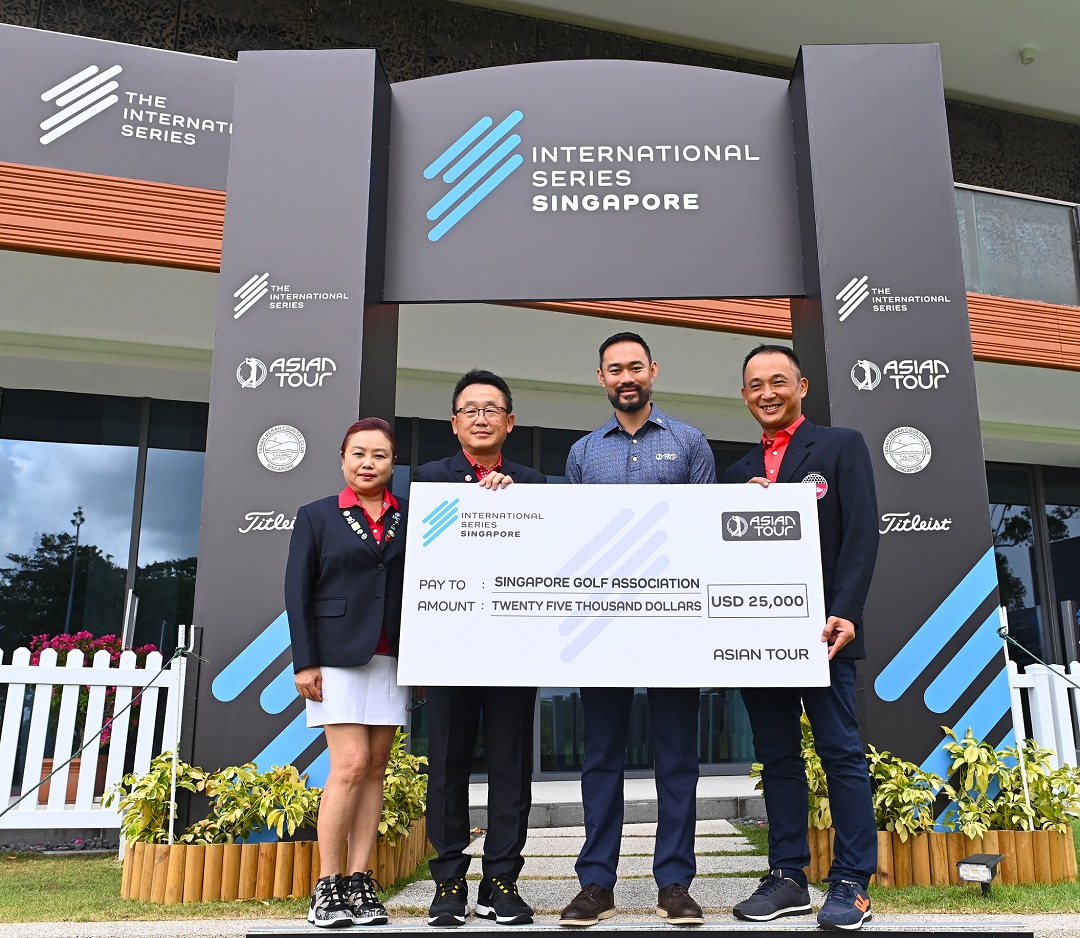 How does LIV Golf related to Asian Tour?
LIV Golf is a big partner of us now. The International Series, which is the series of 10 events this year, last year it was 7 events, is a partnership with LIV Golf. They run their own LIV Golf League with 14 events all around the world, and that's the pinnacle of their product which is in the top players playing the team concept with 25 million purse per tournament. It's lucrative and very entertaining. But the Asian Tour is still a traditional to it. We're a part of the World Golf Federation. And the way we work with LIV is they sponsor 10 of our tournaments, and the winner of that series get a ticket to play LIV next year, and then the next 30 guys on the Order of Merit list get to play in a qualifying tournament for 3 spots for LIV next season.  So there's a connection where we provide a platform for our players to get on to the LIV circuit, but also the top players who play the LIV events – they're only playing 14 times a year so they can comeback to the Asian Tour and play if they want to play more golf as well.
Is that meant that Asian Tour is no more having relationship with PGA Tour?
At the moment, we don't do any consensioning with the PGA Tour or the European Tour. We still have a co-section with Japan and Australia. Unfortunately, we don't have anything with South Africa like we used to.
What makes the International Series special?
Firstly, the investment is undeniable. The prized money of the International Series is very high compared to the regular season on the Asian Tour apart from the Saudi. The purse of 5 million dollars of the International Series is our highest level of golf tournament. Second is the quality of the golf course, the destination. And third is some of the top players from LIV Golf come here to play time to time, and we let all players around the world among top 300 to gather here as well. So that makes International Series is the strongest part of our tour.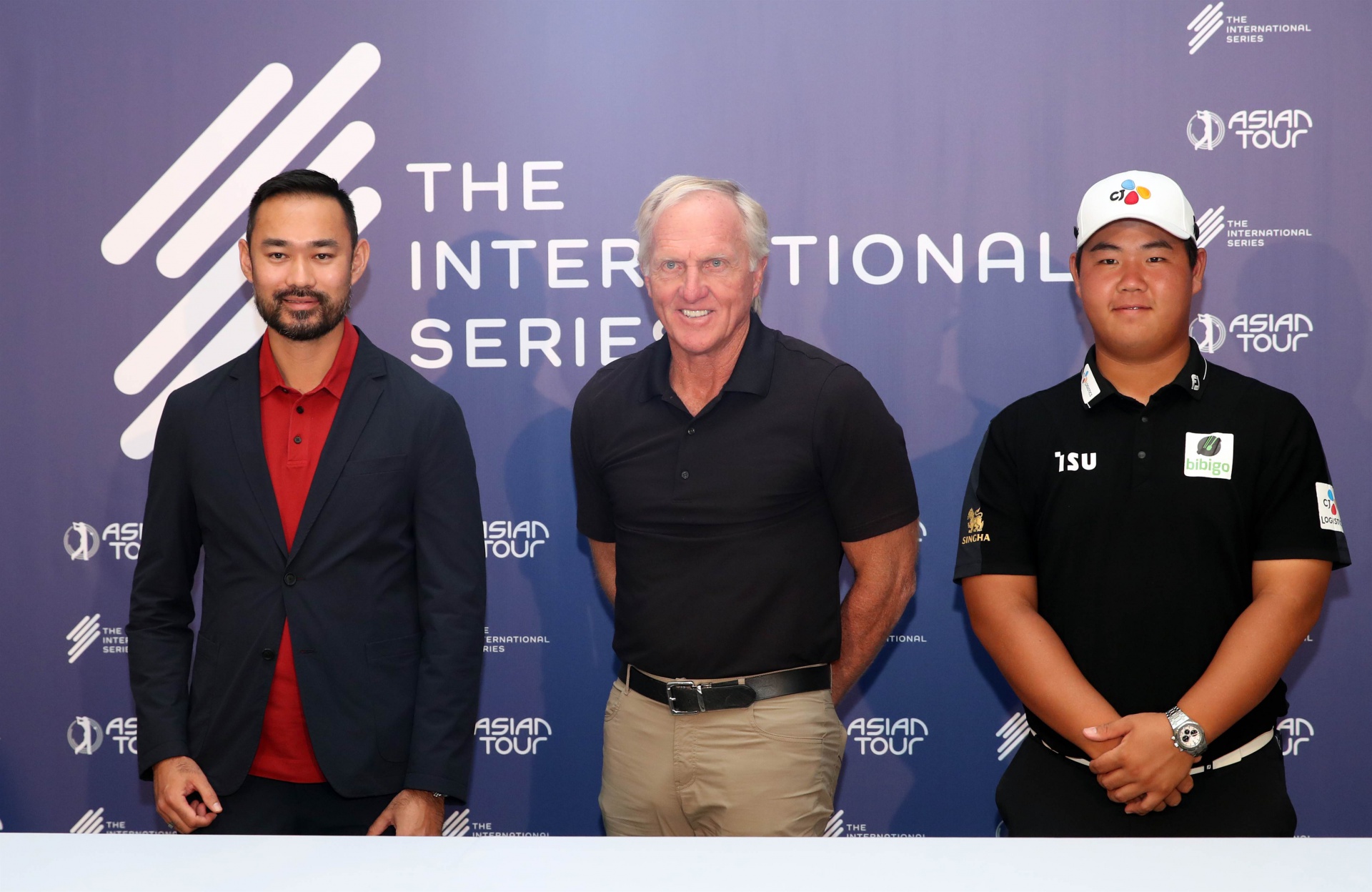 How do you select players for the International Series?

We have criteria for the selection into the tournament. The top criteria is top 300 in the world accỏrding to the OWGR, after that we have invitations for major champions, players of Ryder Cup and Presidents Cup. Below that we have Asian Tour Order of Merit, then Asian Tour tournaments' winners, top 60 from the Order of Merit, then qualifying school and domestic events' winners.
How can the players join the International Series?
They have to be the member of Asian Tour if they are not in top 300 world ranking. No matter they come from Japan, Singapore or Australia, if they wish to join Asian Tour, they can pay for membership. Then if they earn enough money or points after each season, they can be full member of Asian Tour. I think a lot of professional golfers excited in Asian Tour than before. They can join for earning living by playing a lot of tour in Asia, Mid East and even Europe twice per year. And then prize fund also worth for them to try. It's wonderful for Asia players to get the top of money. 
What are other advantages to join Asian Tour?
I think Asian Tour is always special because we travel together every week, about nearly 20 countries each year. All our players will travel, stay at the same hotel and eat the same place. We know each other's even from difference culture. So it will less stressful for players. Many players when come to Asian Tour, they feel like to be back home. I think it's our major difference.  Moreover, the expenses of accommodation, transportation and other service is much cheaper than Europe so players tend to be back to Asian Tour. Vietnam, Thailand, Singapore, Indonesia are also these nice and beautiful places with warm weather. So, I think the players love that.
Does the PGA Tour allow their players to join Asian Tour?
We don't have a lot of crossovers between PGA Tour players and Asian Tour players as we quite separated. But as I know if the PGA Tour players want to play at Asian Tour event they need to seek the permission from the PGA Tour. And the Asian Tour events also not conflicting with others.  I don't see any problem for the PGA Tour to come and play at the Asian Tour.
How can Vietnam be selected to the venue?
With the International Series, we want to travel around the world. So we want to move this product around the continent of Asia to visit places that don't usually have a lot of golf. We had tournaments here before, but compared to others market like Singapore, Thailand or Hong Kong, Vietnam is still a new market and golf is peaking up here. Golf is spreading up here with a lot new golf course, golf tourism and industry is growing here. I think Vietnam will soon catch up with other countries in term of golf tourism because these golf courses here are very particular especially some place like Danang.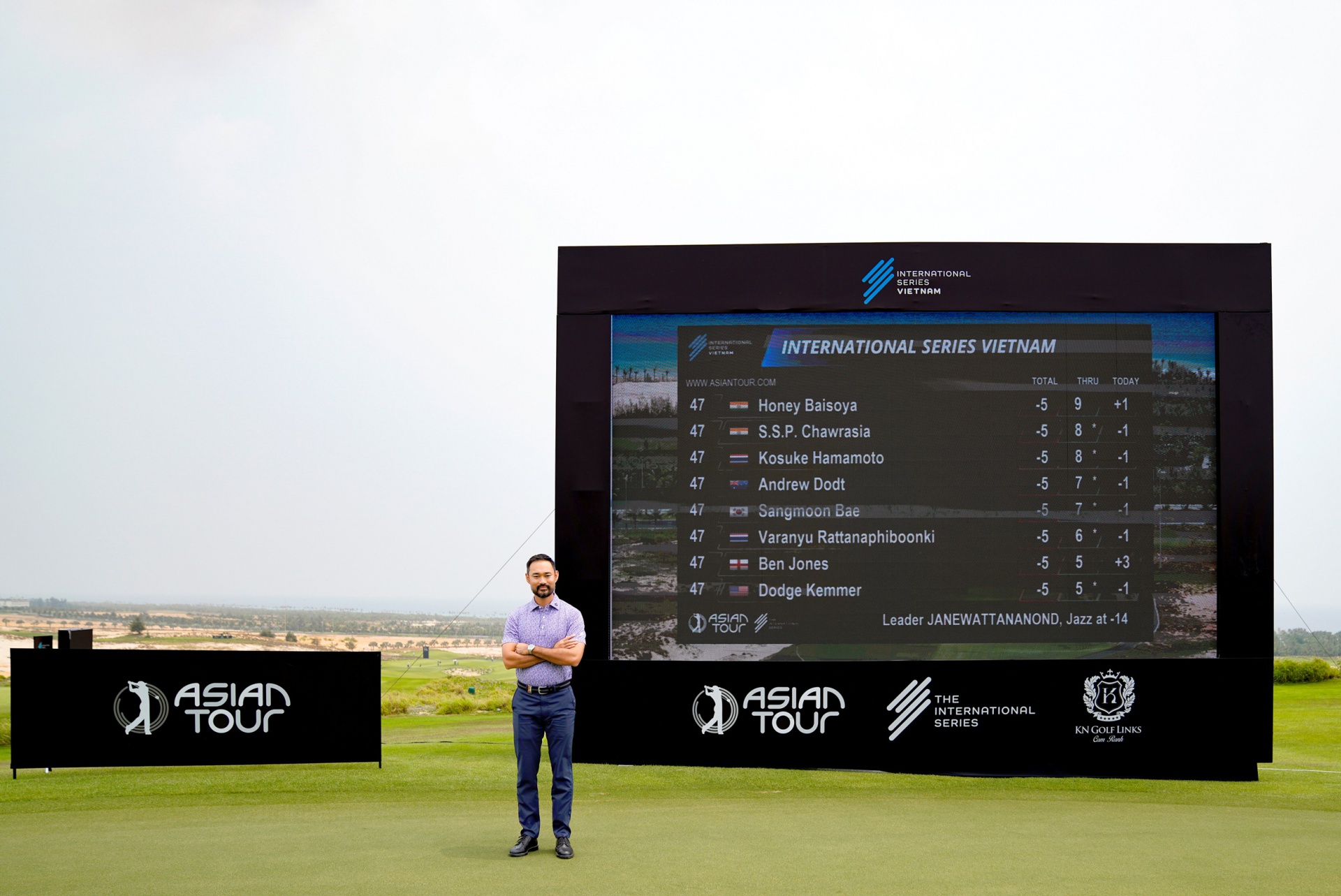 How many percent of local golfer at the International Series? 
Whenever we go to destination for the International Series, we make sure there's a portion of the field for the local golfers. In Vietnam, in the field of 156 golfers, we included 12 Vietnamese players. Other destinations are all the same, we make sure there are 10 to 12 local golfers in the field. That's what local golfers need to experience the world stage, some of them could be very talented that we don't know about because they don't have the exposure. So hopefully with the domestic golfers on the International Series we can help them. As an event of International Series in Hong Kong, a Hong Kong golfer wins the trophy and it's unbelievable. So, I hope Vietnam soon make it happen. 
What do you think about the future picture of the world golf?
My wish is that the PGA Tour, LIV Golf, European Tour and all other Tours can co-exist and there is one place for every player. Because LIV doesn't tend to replicate either PGA Tour or European Tour, it's a very entertaining format. So before anything takes away by Asian Tour, I love watching golf, playing golf and I watch the PGA Tour, Asian Tour, European Tour and LIV Golf. As a consumers of golf I like to have choices to do whatever I want, I can watch one Tour or every Tour. I want to see good golf on TV, I want to entertain. The professional industry is the entertainment business. I don't think not everyone need to be best friend or need to work together like in other sports, top players can play everywhere for every tour. I think I want golf will be like.
What do you think about the KN golf course condition for this event?
I think we have all thing we need here. We have big club house, great restaurant, good accommodation and convenient airplane and transportation from hotel to the airport. Golf course condition is good. So International Series in Vietnam is very easy week for us. Because in fact in some destination we had to drive an hour away from airport to hotel and golf course as well. 
Will you continue to bring it back to Vietnam?
Actually, it depends on what our direction next year as I like to travel around. It could be Vietnam in two years next for at least. But even if we don't have International Series here, we would like to have the ADT. It's not like we organize a tournament and disappear. We want to have more tournament here, not just the International Series. We like to have our footprint in Vietnam!
Does Asian Tour have any plan in women's golf?
At the moment, we have our hands full: recovering from COVID, hiring a lot of new staffs, and we have to travelling a lot more… so we don't have enough time to catch up ladies golf as well as junior golf. When we settle down, we will think about it. 
Thank your for your sharing!
About Cho Minn Thant
Joining the Asian Tour in 2007, Cho has held numerous positions within the organization before assuming the role of Chief Operating Officer in October 2016. Three years later, he would be promoted to CEO. Working closely with the Chairman and Board of Directors, Cho is in charge of leading the strategic direction of the Asian Tour, with his primary responsibilities, since 2019, being the tournament schedule, commercial development and overall management of International Federation matters.
About Asian Tour
 

Formerly

Asian PGA Tour
Omega Tour
Davidoff Tour

Sport

Founded

1994

Inaugural season

1995

Cho Minn Thant

Director

Jimmy Masrin

Countries

Based in Asia[a]

Most titles

Order of Merit titles:
3:  Thongchai Jaidee
Tournament wins:
18:  Thaworn Wiratchant

Related
competitions

Official website
Other Articles