Arie Irawan meant so much to so many
"Arie exemplified what it means to be a professional golfer, a husband and a friend in the true nature. I'm just devastated by this loss," said Shotaro Ban, a series member.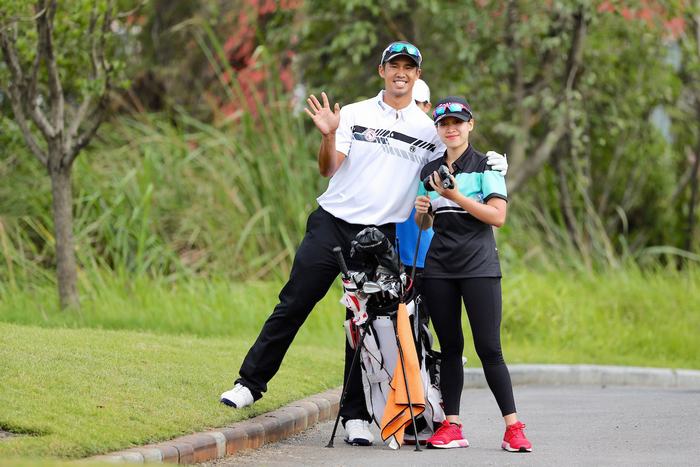 Arie Irawan and wife Marina
The photo shows the golfer with his arm around his caddie. They're both smiling. They should have been. Last year playing on PGA TOUR Series-China, the player, Malaysia's Arie Irawan, and the caddie, his wife of three weeks, the former Marina Malek, traveled to Guilin, China, where Arie played well at that week's tournament and was in contention before eventually settling for a tie for fourth. Although Marina knew very little about golf, she was ready for the challenge of caddying, she loved who she was working for that week and her "boss" was more than happy with her performance.
"I'm so lucky I have my wife here this week," Arie said following his first round. "This is the first time Marina is traveling and caddying for me, and she's also taking care of the food, so that makes it easy. It helps a lot having her out there. It just makes me more calm, and that's why I didn't make any bogeys today. She makes me happy."
That joy turned to sadness in a stunning way Sunday morning in Sanya, China, as Arie never woke up, dying in his sleep in his hotel room as resuscitation efforts were unsuccessful. He was 28.
Arie was in Sanya for another tournament, this time the Sanya Championship, the second event of the PGA TOUR Series-China season. Marina was back home in Malaysia. Arie had missed the cut a week earlier in Chongqing and didn't play well in Sanya, not qualifying for weekend play again. But since he was already in the resort city bordering the South China Sea, Arie elected to stay on site in a hotel room he was sharing with fellow player Kevin Techakanokboon. His plan was to then travel to Haikou, about a 90-minute train ride on the north side of Hainan Island, for this week's Haikou Championship.
Kevin Techakanokboon and Arie Irawan
News of his death stunned everybody who knew Irawan, an international player who travelled all over the world playing golf. Out of deference and respect, Tour officials delayed the start of the Sanya Championship final round and then ultimately cancelled it after announcing Arie's death.
It was in Malaysia where Arie got his start in the game, taking up golf eight years after he was born on August 21, 1990, to Ahmad and Jeny Irawan. In 2006 and 2007, he finished runner-up at Faldo Series events in Malaysia, and as an 18-year-old, he won the Malaysian Amateur Stroke Play Championship. With those successes, he began to attract attention from U.S. college coaches interested in securing his services. Arie elected to attend and play golf at the University of Tulsa in Oklahoma. While in college, he earned four letters, was an Academic All-American his junior year and earned his degree in management information systems. Upon graduation, he returned to Malaysia to embark on a professional golf career.
"His death has been tough on all of us. Golf being such a tight-knit community, it really is a shock what has happened," said veteran Benjamin Lein, who became friends with Irawan last year when he joined the Tour as a full member.
Posted by Hà Phan